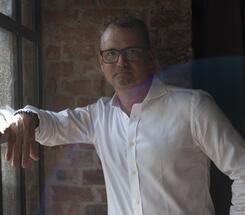 They know what they want to achieve and how they want to achieve for themselves and their clients, they found tailor made solutions even in the most difficult times and the market has proven it: they are successful and they have a good reputation in the business. Now, they have announced a significant change: a strategic partnership agreement with NAI Global, one of the world's largest real estate consultancies. We talked to Mr. Csaba Széll, founder and managing director.
- What happened? What is behind the agreement? According to the available information about you, your management is quite stable.
- Indeed, we are proud of our very strong market position. Since our launch on 1 May 2011, we have established our position in the commercial real estate services market, which we have not only maintained but strengthened over the years. Despite an increasing number of advisors fighting for clients, we have been able to at least maintain our indicators and in many cases improve them year by year. But as a child feels – who develops and sees the perspectives on the horizon after he learned to walk confidently, - and knows that he has to learn and improve. It's an essential desire, and in our team - as a company and as individuals - we know we have to move on. It is important for the professionals here and for the team to gain an international perspective and to move forward.
- Have you outgrown the Hungarian market?
- To this day, we are incredibly happy - I can say this on behalf of my colleagues - to live and work here. But we also see that the Hungarian real estate market is relatively small, concentrated in Budapest, and this determines not only the number and size of deals, but also the quality. We want to be involved in complex deals, complex in a good sense, to look at case studies and learn from them, to make serious cross-border deals. We have achieved all what is feasible in one country's market for an independent consultancy. We can go higher when we have access to the international knowledge, network and influence that an international firm can provide, and NAI Global is just that. Let me remind you that our company name is CE LAND, where CE stands for Central European. On foundation we had a regional ambition and we are now realizing it. By the way, we already have a presence in Croatia and Austria, and our name sounds as good in Vienna as in Budapest.
- How did you find each other? Or perhaps it would be more accurate to ask the question: who found who?
- This is an evolutionary process that has started three years ago and now comes to its end. Before Covid, we met at MIPIM in Cannes and at REAL EXPO in Munich. The region was still uncovered on the NAI Global map, they were doing a very thorough job of looking for potential partners and we were looking for someone with whom we could break into other markets. Interestingly, we had chemistry almost from the first moment, but both sides wanted to make a rational decision. We made a well thought-out and clear-cut decision when we reached an agreement with one of the world's largest real estate service providers, and we will now continue to work as NAI CELand.
- How would you define the essence of this? Cooperation, franchise agreement?
- If I had to answer briefly, I would say strategic partnership. We are committed to each other, but we do not have to give up our independence. We have taken exclusivity towards each other, but the ownership has not changed; CE LAND remains in the ownership of the management. What is just as important for me as the founder of the company is that continuity remains unbroken. So far we have grown organically, step by step, but we have reached the limits of this model. Ten years is a long time in the life of a business and, as well as looking back, it is also worth looking at where we want CE LAND to be in 2032. My partners and I have been thinking about how we can grow, access international knowledge and business opportunities. All of my colleagues here are in senior positions, have many years of experience in the market or have joined us with it. When I told them about the opportunity at NAI Global, I could hardly finish the sentence, they were like, "but this is a great opportunity!" And they didn't just have the new clients we'd get in mind, but they also thought about the new prospects we'd get. I feel that we all still have the strength and will to grow and learn. I think we have reached an ideal strategic agreement with NAI Global that will take CE LAND to the next level and ensure its development and success for the next ten years. We also like the NAI Global because its basic philosophy - Local Expertise Powering a Global Firm - is what we believe in: real estate is a business based on local knowledge and local know-how, but the power of a global network is hard to overestimate.
- If we consider CE LAND to be a medium sized boat, has it now been given a more powerful engine rather than a change of direction?
- I would rather say that we are now part of a very efficient, agile and capable fleet. If you have to fire at one target, the whole fleet will fire, and we can count on synergies: we are very good at the local market, which they can access through us, and with our help they can serve their customers who are here. And as part of a global network with 300+ offices and 5100 consultants from Africa through Asia to the US, we get the know-how that is impossible to get as an outsider. NAI Global is actively involved in over $20 billion worth of business every year, and is an unrivalled name in the industry. This knowledge is now available to us and we will pass it on to our local principals. But we remain the captain of our own ship.
- What does this look like on a daily, operational level?
- The NAI Global obviously insists on formalities - look, image, certain formalities - but the point is obviously not that, but to maximize the potential for synergies. We just made our collaboration public in mid-April, but in fact the real work has already started; we have been awarded a contract that we could not have done without NAI Global. Otherwise, they have no say in the day-to-day running of the business, nor do they want to; we do our job, we do our work. NAI Global knows that we really understand the local fault lines and market conditions. If you go to the NAI Global website and look for experts in the region, click on Budapest and you'll find our office contact details. (https://www.naiglobal.com/members/ )
- You mentioned that the consultancy market is crowded and very competitive. If a Hungarian client comes to you, how can he benefit from this strategic partnership of the CE LAND?
- Our clients in Hungary can now access global investors, tenants, service providers, or even foreign products, investment or commercial real estate through us and our partners.
- What are the most serious obstacles and challenges now, in the spring of 2022, and what ideas do you have to overcome or avoid them?
- I recently compiled a list of ten dangers for anyone who wants to invest in the domestic real estate market. I have to say that Covid-19 and the geopolitical environment are only two items on that list. We are living in stormy times, and that is when we really need someone to tell us - to use the example of the ships - where the underwater reefs are that are hard to see with the naked eye and that could pose a danger. Sailing in a smooth sea is not a problem, and a pilot is usually called when the sea is rough or when you are in waters where it is almost impossible to reach a safe harbor. To give you a concrete example: everyone is talking about hybrid office use and its impact on the market, but in fact it is still an immature thing, companies are experimenting with it. It is perfectly understandable that they are turning to us, as consultants, to come up with a solution. You need know-how, you need to know and understand what works and what does not work, and with that knowledge you can offer specific solutions. If we work as part of a global group, we will soon have a list of best practices and experiences. Why should our client have to go through all the possible ideas when we can already tell - with a pretty high probability - what works and what doesn't.
- When was the last time the sea was calm?
- I have been attending two of Europe's most important property fairs for 20 years, but with the exception of 4-5 years, I have rarely received a very positive professional reception representing the Hungarian market. We had a period of perspective before Covid, but now we are vulnerable again; there are problems in the supply chains, inflation is soaring, the Russian-Ukrainian war is ongoing and all of this together makes planning almost impossible. It is very difficult to predict the environment in which a project will arrive in 2-3 years' time; however it needs this period of time to run through.
- Is there a solution?
- The point is that there is always a solution! We know how to and must overcome the cyclical nature of the market, we will overcome the current difficulties, but it also matters how. As far as CE LAND is concerned, there is always a way forward and we would not have entered into an alliance with a global company if we did not believe that we would play an increasingly important role in the market.
- Let's talk a bit about the current situation! What are the main trends in the office market right now?
- Just as the automotive industry, for example, cannot be described in a single sentence in terms of what trends are dominant or expected, our industry is more complicated and complex as well. What is certain is that the value of office buildings is determined not by the price of bricks and mortar, but by the quality of the lease contracts that are in place, in addition to location. In turn, the tenant needs on which these contracts are based are changing and becoming more sophisticated. As I see it, all buildings, except for those that are new to the market, need to be repositioned, in whole or in part.
- But the vacancy rate is still only below 10%, which is healthy, for example to allow buildings at the end of their life cycle to be renovated and adapted to changing demand.
- Yes, that's true, but behind the buildings there are business plans and loans, and although rents have risen somewhat, this has only partially offset the increase in building materials and labor costs. This is the reason why the - theoretical - cost of re-producing buildings today, in 2022, is significantly higher than it was a few years ago. Looking at the trends, one more thing may stand out: the transparency of the domestic market still leaves something to be desired, but it seems that the prime yield indicator, i.e. the prime yield, has also fallen below 5% under Covid, a very significant dip of 100 basis points. This means that when projecting returns, we need to consider a rental period about four years longer than 2 years ago of Covid. This is not difficult to calculate, and I have only given as an example to illustrate that sometimes it is the seemingly small details that determine the success of a project. Over the past decade or more, we have learned what distinguishes the truly good from the just good and the good enough, the momentary distraction from value creation and the sustainable solution. What motivates us is to continue to prove to our clients what we have said from the start: we are very ready, willing and able so we are not only ready for new tasks, but we are also able to execute them.
Irodakereso.info