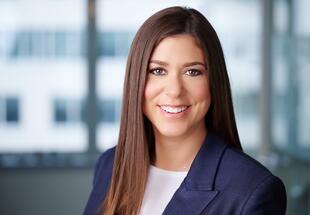 - How did 2021 start for the office market?
- The first quarter of 2022 was strong on the office market, demand has increased by 7% on a year on year base, it's the highest level since the beginning of the pandemic. This strong start may continue differently during the year as the market is currently characterized by higher material prices, and potentially worsening of macro financial figures arising from the current geopolitical situation. At this stage the effects cannot be entirely evaluated, but CEE markets have demonstrated resilience in the past due to the strong market fundamentals, and we continue to observe the increase in investors' activity and their interest in prime offices preferably from partners matching ESG criteria.
- The construction of H2Offices is making spectacular progress. What timing are you expecting?
- Recently we achieved an important milestone with H2Offices, our 10th project in Hungary: the first phase has reached its final height of 36 meters. So the structure is ready, the characteristic facade is also very close to completion. The mechanical, electrical, masonry and dry construction works are ongoing within the building. The first building covers almost 27,000 square meters of leasable area and consists of eight floors and three underground parking levels. The delivery of the first phase is scheduled to Q4 2022. Traditional Scandinavian design principles and environmental consciousness characterize H2Offices complex. Large number of community areas and open spaces between the three buildings are in the core of the concept: the employees will be able to relax and work in these landscaped green spaces, and the 5,000 sqm multifunctional garden with water feature will also be open to the public. The development will obtain LEED, WELL, WELL Health & Safety and Access4You certifications; the first phase will offer a rooftop running track and green gardens on the top floor. Energy efficiency, smart water management, lots of natural light, healthy dining options and bicycle facilities all ensure environmental awareness and the well-being of the building's users.
- Speaking of people's well-being, in many people's minds this is linked to the possibility of a partial home office. Do you think companies will move back into offices or continue to operate in a hybrid way? What are the strongest trends now?
- Many companies have already moved back to the offices with a hybrid setting. Currently the most significant trend is the increased need for solutions that combine traditional and flex office spaces and I think this will stay with us. High quality, flexible office spaces are highly appreciated by employees. Last year we conducted several studies in the CEE region on office worker's attitudes towards working in the office or at home, and among many interesting findings there was one outstanding: 84% of employees claim that mental health support should be offered to office workers. This is something very important to consider, and companies will have to address that, creating work culture and workplaces adjusting to such needs.
- Let's get a little more specific: How have tenants' needs changed in recent years?
- We have been experiencing a higher demand in fit out quality already before the pandemic and now especially that organizations are focusing on back to the office concepts. Our mission is to be there to support our tenants and offer them tailored solutions. Supplementing workplace advisory we have also created the Care for Life Office Concept in the CEE, which guides our partners and provides consultancy on air quality, touchless solutions, space planning and facility management with a focus on integrating the companies culture.
- How important is ESG?
- In recent years, we have observed the growing role of ESG indicators, which have an increasingly strong impact on business' decisions hence on the real estate investment market as well. Before the pandemic, about 25% of global assets under management were viewed through a sustainability lens and in the next few years, it is expected that the proportion is likely to rise to 75% or even more. Companies with high ESG ratings have earned comparatively higher stock returns and experienced lower volatility. It is becoming clear that sustainable development is not just a trend, but a holistic way of thinking about business. It is also crucial to take care of employees and local communities, that are impacted by companies and how conscientiously and transparently they work. All of the indicators are interconnected, ESG requires a comprehensive approach. Tenants and investors are focusing on ESG-compliant projects and this will definitely shape the market today and in the upcoming years. At Skanska we have been putting a great emphasis on implementing and promoting solutions that aim to improve the environment and social responsibility for over a decade now. Focusing on reducing emissions from materials and the use of our buildings, on resource efficiency and on renewable energy leads us to our goal, which is transitioning to low-carbon construction across all our projects and ultimately reach net-zero carbon emissions by 2045. We also focus on our responsibility for people and on ensuring health and safety for all. Ethics and transparency, fairness and embracing of diversity are core values for us.
- The vacancy rate is below 10 percent for the overall market. Do you think this level is still healthy? Is there even an adequate rate?
- I expect the vacancy rate to further but moderately increase from the current 9.8 % in the next 2 years arising from the occupier slight space optimization and the new stock being delivered. However still staying at a healthy level.
Irodakereso.info