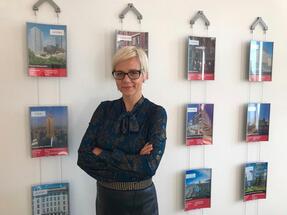 - Knight Frank has not been present on the Hungarian market for very long. What is the balance so far?
- 2021 was our best year so far in Hungary, despite pandemic. We have strengthened our position in Hungary, which was obvious also in the 135% increased revenue, compared to the previous year, we have introduced the industrial service line, hired new talents and widened our presence with our regional hub by opening three new additional offices: Bulgaria, Serbia and Greece. Our 2022 pipeline looks good and we will soon host a regional Knight Frank leaders' seminar in Budapest, so we can truly state that from every aspect we became stronger, in less than four years after the launch of our Hungarian operations.
- What kind of year do you expect for 2022 regarding the office market?
- We do expect a year full of challenges, because tenants will have diverse requests, thus requiring us to also expand the design of our strategies according to their varied needs. Based on our latest experiences, tenants are getting more cautious and more risk aware. The macroeconomic environment does not necessarily outline an expanding trend, the uncertainty and the growing threats lead in most of the cases to a firm desire in decreasing liability and increasing flexibility. In the past 18 months a large part of our transactional activity was represented by renegotiation, with smaller rental areas and more flexible contractual terms. It naturally means a rising vacancy on the office market. However, the rent levels of the new developments will follow the global trends and the financial characteristics of the market, which will reflect in rising differences between the rent levels of the new developments and the existing offices.
- Do you think that the firms will move back to the office or switch to hybrid working? What do you think are the most prominent trends?
- Tightening labour markets, four-day working weeks and the flight to quality are strengthening the argument for a hybrid working business strategy. We see the hybrid model to be working in most of the cases, why would the companies not use it then? It means a decreased cost level for the firms and a huge hr advantage. As far as we see, employees like the model: they certainly need an office space to go back, while they would like to keep the possibility of the home office as well. Of course, there is no shortage of noise about the potential pros and cons of hybrid working. Advocates see hybrid as essential for attracting and retaining talent; for extending the geographical reach of organisations into untapped, distant, labour markets; for bringing greater efficiency to business processes and operations; and even to creating more sustainable businesses. Detractors suggest hybrid makes inclusion and collaboration more difficult; negatively influences career development and progression; adversely affects the tacit learning so key to professional service firms; or brings a level of managerial duplicity and complexity that is highly inefficient. While this debate continues, hybrid will become one of the business buzzwords of 2022.
- So companies clearly need to respond to the new world of work.
- However, we should be careful not to get swept away with the hyperbole or take the exception as the rule. The jury is still out and the upcoming implementation of hybrid working styles will provide test cases on which to build stronger evidence. We fully expect the practical challenges of delivering hybrid working to become clearer over this year and anticipate growing concerns around its effect on corporate culture, connection and growth to amplify. This will ultimately lead to many organisations adopting an 'office first' stance with flexibility enabled through dynamic working and the permitting of home working according to function and role. If organisations provide choice around the where at work, but want work to support culture, connection and growth, then they will be obliged to provide formal workplaces that offer an environment and experience well beyond that which someone can achieve at home and through virtual connection.
- Mentioned that you expect the rise of the vacancy rate. How long and what is still a healthy level? Is 10% still healthy?
- It is really difficult to define an optimal level of vacancy, but having it very high is not good, no. The office vacancy rate increased to 9.2% in 2021, representing a 0.1 % increase quarter-on-quarter and year-on-year. The lowest vacancy is registered in North Buda with a 5.6% vacancy rate, while the highest vacancy rate is still in the Periphery submarket (31.1%). In the meantime, vacancy rate further increased to 9.8% by the end of Q1 2022, and we expect further increase in the vacancy. Besides that, I do not believe that the 10% would be unhealthy; we are more concerned about the sublease areas, which act like hidden vacancy - once these areas get back to the market, vacancy levels might raise suddenly. On the other hand, it still takes some time until these areas will come to the market, so it also might evaporate until the expiry.
- How have tenant expectations changed or are changing over the last few years? What is considered a successful product in the office market today? How important is ESG?
- As mentioned earlier, most of our tenants are looking for more flexibility and an office which can be fitted to their changed needs. There are areas, which have different functions in the past two years, they help the collaboration of the employees, when they are in the offices. The first priority in terms of the offices (location-location-location) is unchanged. Other than that, flexibility, well-being of the employees, green surroundings terraces, a relaxing, fresh aired and recharging micro-environment – we believe these are the most important factors. ESG is an important factor and it is getting more and more important – not only for the tenants, but also for the investors and wider society as a whole. We understand the impact that ESG will continue to have on real estate and how it will play a pivotal part in shaping the future of our industry. The purpose-driven or shared value business model is gaining significant traction as occupiers look to reinvent the way they do business in the midst of a prolonged Covid-19 pandemic.
- Do you mean that the tendency for companies to set goals for success that go beyond the sole pursuit of profit will continue to be a driving force in influencing real estate decisions in 2022 and beyond?
- This trend, to set out goals to achieve success beyond solely making profit, is going to be a driving force in influencing real estate decisions over the course of 2022 and beyond. Covid-19 has put greater pressure on corporates to be active participants in creating solutions to the world's societal and environmental challenges. It is also forcing corporates to have a moment of introspection, re-imagining how they operate and what they stand for in a changing world. Companies are changing fast, pivoting towards balancing profit with doing good. It has been recognized for a while that real estate is a strategic device for business. It should be no surprise, therefore, that greater corporate purpose will be reflected in properties that align with those goals and bring positive benefits to local environments and communities.

Irodakereso.info