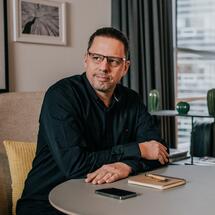 - There is somewhat contradictory news coming from the office market: on the one hand, the home office seems to be here to stay, but on the other hand, the slow return to the offices has started. What do you think are the main trends?
- The home office has dominated in recent times due to the pandemic, but we see and also hear from many tenants that people are eager to come back to work. Therefore, home office was already there before Covid-19, but it will never replace office work. Teamwork and personal interaction are key to business innovation and productivity. Companies and their employees are aware of the importance of inspiring conversations, face-to-face meetings and spontaneous small discussions. We are optimally prepared for the future when we need to manage office rental demands flexibly to offer even more compound workspaces to our tenants.
- What does this mean in concrete terms?
- It will require offices with a very high level of different services. If the workplace is not only beautiful and modern, but also designed with a human-centered approach and offers a range of high quality office services, this will be a major added value for the employer. It can also be a decisive factor in the choice of a new workplace, and for employees it is a positive feedback from the employer in terms of appreciation and job evaluation.
- Why is it in the employer's interest to spend money on this?
- There is a strong demand for good people, so it is in an employer's interest to provide an excellent working environment in addition to benefits. There is a demand from employees as well to spend their working time - which is not a small amount of time in relative terms - in a healthy, modern and pleasant environment. If they feel well, they do not think about changing jobs, if they have a well-ventilated office space, they do not get headaches, and if they exercise, they sleep better after work, perform better, and so on. Today, it is inconceivable that an office building does not have a restaurant or buffet with a variety of healthy food, a garden with a green environment for recreation and a multifunctional community space. One of the key messages of our myhive concept is not only to create a sophisticated working environment, but also to ensure that our tenants can focus only on their work. We've took a lot of the burden off their shoulders: we provide hotel-standard concierge service, take care of the cleaning for the employees, managing the personal posts, organize yoga classes and massages, and even have a community manager who organizes after-hours activities and parties. We have myhive office buildings where we regularly bring a farmer's market, some others where we organize a running club. Now we want to offer even more complex premium services. In the recent months, we have launched new myhive services on the office market.
- What are these new services?
- - We offer our tenants very flexible products in several different constructions. This means that we are as flexible as possible in terms of both the length of the lease and the size of the space, and we are also very flexible in terms of office design and services. For example, our myoffice service - already a popular product in our portfolio - offers a complete office solution with furnished or customized offices in an office building where tenants can enjoy the full myhive service package: excellent infrastructure, community areas and all the services that myhive members enjoy. You can enjoy similar conditions at mycowork, where you can rent a single desk in a premium office environment. So, in short, we are trying to meet the needs of the market and our tenants to the maximum: to offer a diverse and expanding range of services to enable tenants to move into a high quality office easily, quickly without extra expense.
- Would you give an example of what expectations your offices meet?
- Our office buildings, with their outstanding infrastructure and modern design, are already available with a variety of high-level ergonomic solutions, e.g. office chairs and desks can be adjusted and varied for all body types and heights, and even raised if you want to stand. In addition to maximizing natural light, we have equipped the office spaces with biorhythm tracking lights that adjust the necessary light according to the time of day, and a plant wall and adequate number of green plants for air purification that regulates the room temperature and humidity. And a purified water filter integrated into the tap and a zoned heating and cooling system use highly innovative technology that automatically monitors, measures and controls the indoor temperature. Socializing and relaxation are provided by the community spaces, but there are also meeting rooms of various sizes and atmospheres, or separated focus rooms. We try to bring as much exercise into office life as possible and make sport trendy: the before mentioned running club, gym classes, yoga, massage and even healthy lifestyle advice are available.
- What is the most popular service?
- It depends on the individual; some people say that chillout music in our community spaces is their favorite myhive service, others say that they can't imagine working without a customizable table and chairs, and of course there are the "invisible" factors: the fact that there is enough natural light, air-cleaning plant walls and enough communal space is not necessarily noticeable after a while, "just" that it is nice to come in and be here. My own experience: if I have to discuss a meeting location with a partner, I try to convince them to come to us. Not just because I want to boast about our myhive offices, but we really have everything we need to focus on the work. I sometimes take a few moments to watch the faces of those who leave the building: I find that the vast majority leave calmer, more content and more smiling than they arrived. Once you experience what it is like to work in a healthy working environment - where stress can be reduced and the conditions for physical and mental health are provided - it is very hard to give up.
Irodakereso.info