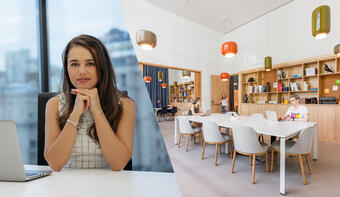 - There is a slogan on your website: Discover the world of hybrid working. Is this definitely the future?
- Hybrid working is better for people, cheaper and far more flexible for companies. The advent of hybrid has made it redundant for companies to tie themselves into inflexible and expensive long-term contracts on city-centre properties, while also having a hugely positive impact on the environment. This type of working is being rapidly adopted by companies worldwide. And it's no longer just about plans or intentions as we can see in our record numbers for 2022, it's already changed the actions business leaders are taking when it comes to managing their property footprint. In IWG's recent CFO study, half of the financial leaders surveyed have already opted for short-term leases or shared workspaces. The reasoning for this shift to hybrid is simple: the approach gives them the flexibility to scale up or down quickly without being locked into lengthy contracts.
- Can you provide some figures to support this?
- Of course. It's also 'a no brainer' when it comes to profit, with an independent Global Analytics survey recently showing that hybrid working can save organisations an average of more than $11,000 per employee per year. Savings of that scale ramp up dramatically. It's estimated that since Cisco went hybrid five years ago it has saved around $500 million by cutting around half of its real-estate footprint. We see a future where between 30 and 50% of white-collar workers (well over a billion people) will work in the hybrid style. Significant academic research and opinion reinforces this prediction and highlights why companies are embracing the model.
- Let's move up a level; What are the main trends globally and in the region?
- According to Stanford University's Professor Nicholas Bloom, acknowledged as the leading academic expert on hybrid: "Firms don't do things that lose them money. They do things that make them money. That's why every firm just about out there is doing hybrid, because it's such a no-brainer to increase profit". This future world of work is one in which we thrive, as the global market leader of hybrid working products supplied from our platform. A new real estate frontier, where buildings are 'linked together' to form a single work platform that can be accessed by millions in a convenient, productive and efficient way. Most importantly, work becomes more local for many, with growing indications that the fast-changing working habits of millions of people across the world mean the days could be numbered for one of the greatest drivers of global warming: the daily commute. Little has done more over the years to depress, stress and irritate workers than the daily commute, affecting people in otherwise fantastic careers, in exceptional cities and with great employers. It separates families, fractures communities, pollutes the environment and wastes vast amounts of time and money. Today the daily commute is entirely unnecessary, because the office is no longer a physical place that people have to go to. Rather, it is a digital space, where data saved in the cloud is accessible at any time, from anywhere. While sophisticated web-based technology has been around for a few years, it has only been since the pandemic when companies have seen first-hand that not only does hybrid work, but they are able to thrive under the model. Firms are able to operate more efficiently with a more productive workforce, while employees are happier as they see hybrid working as the equivalent of a 7% to 8% pay rise. Tenant needs changed over the past years; we face accelerated demand for hybrid working solutions.
- Another hot issue is ESG. What effect has it on the sector?
- Growth is clearly a priority for IWG, but we are determined only to expand as a carbon-neutral organisation. I am therefore very pleased to announce that action we have taken to restrict and offset IWG plc's environmental impact is having the desired effect, and we have been confirmed as a carbon neutral business and our strong AA rating by MSCI was upgraded. We are the only global office and co-working provider to offer all our customer carbon neutral workplaces.
- What about the vacancy rate? It seems to be slowly but steadily rising. Will there be a trend reversal?
- We are experiencing record demand across our business and expect the occupancy to continue to rise in H2 and beyond. We recorded our highest ever quarterly revenue in the first quarter of this year.
- This also means that they are expanding your activities in Hungary?
- IWG is establishing a stronger and much-needed footprint in Hungary with several new locations opening soon. This network expansion will not only concern Budapest, where we already operate 12 sites under the Regus, Spaces and Signature brands, but also new cities like Szeged and Biatorbagy for example. Another axis of regional development of the group will go through a new brand: HQ. IWG's multi-brand expansion strategy is designed to appeal to every type of business and entrepreneur. IWG creates personal, financial, and strategic value for businesses of every size, from some of the most exciting companies and well-known organisations on the planet, to individuals and the next generation of industry leaders. All of them harness the power of flexible working to increase their productivity, efficiency, agility, and market proximity.

Irodakereso.info