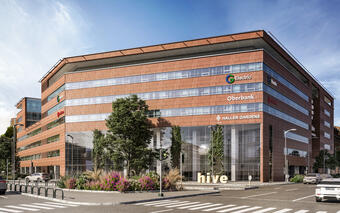 Located in South Pest, the 7-storey office building with good amenities has recently been completely modernized, with a new function and design for the facade, garden and lobbies, and modern and energy-efficient lighting inside and outside. In addition to this, new services such as Service Point and the flexible mycowork and myoffice office products have been implemented here, and an event and meeting venue with high-tech event solutions has also been developed in the office building. The building is certified by the world's leading science-based BREEAM certification for sustainable built environment, while its accessibility for the people with limited mobility is guaranteed by the Access4you certificate.
These developments have not escaped the attention of our tenants, and recently myhive Haller Gardens office building signed a new lease for more than 5,000 square meters of office space.
"Our new tenants have chosen myhive Haller Gardens because of our market-leading range of services, where their emerging needs can be fully met by the office building. Our modern, well-equipped office space is ready to welcome employees, and our amenities help to work efficiently and comfortably throughout the working days. I'm proud that our sales team has been able to secure such a high-volume deal at our modernized myhive Haller Gardens office building", said Ottó Vörös, Country Manager Finance & Support, IMMOFINANZ Hungary.
IMMOFINANZ