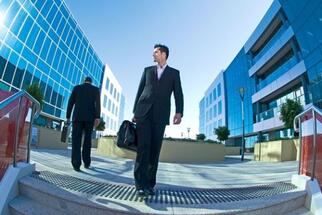 Over three-quarters of respondents regarded work-life integration as the most important factor when choosing an organisation to work for, while salary, leadership development opportunities and location were also considered key to workplace satisfaction. Office design and facilities were less important - only 37% of respondents said these factors were very important - while a mere 18% considered an office's sustainability and "green credentials" to be a significant characteristic of a modern office. Still, one-third of professionals in Central and Eastern Europe believe their workplace will change over the next 2-3 years.
"Co-working proved popular among respondents, particularly those based in capital cities. Over a quarter of those surveyed agreed that working in a co-working/flexible space was appealing, with a further 40% agreeing slightly. Breaking this down by geography, it was found that 36% of capital city centre-located respondents strongly agreed with co-working. Only 4% strongly disagreed."- commented Mark Robinson, CEE Research Specialist at Colliers International.
Agile working, including working from home, is growing in use across the region. 49% of professionals said that agile working was available to them and used at least some of the time, and 57% indicated the same for working from home.
"During the course of our occupier representation we noted that the employers' top priority is supporting their existing and future employee's aims which result in organizations investing more in their office environment as well. The most recent Randstad Employer Brand survey results for Hungary also verifies the above findings as 64% of the employees consider work atmosphere when choosing their employer. This outcome increased by 20% from 2016 to 2018." - added Kata Mazsaroff, Director of Occupier Services at Colliers International Hungary.
Consequences for CEE office real estate
The survey suggests that transformations are coming to the office sector in CEE. Tenants may seek more flexible, perhaps shorter term, tenancy arrangements, however strong economies in the region have seen vacancy rates fall and some negotiating power perhaps flowing back to landlords and managers.
These trends may already be encouraging developers and landlords in CEE to consider shared workplace solutions within their office buildings and may see developers tackle more well-located brownfield sites.
"As for the physical characteristics of office, location is king – more than half of the respondents have seen this as a very important factor. Since well-located plots for office development are scarce, we expect brownfield sites to become more interesting investment opportunities." – said Gábor Czike, Head of Real Estate at CMS Budapest.

Source: Colliers International, CMS