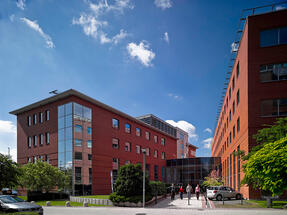 Itelligence are an international IT Consultancy company and will take occupation of their new Hungarian HQ offices at Infopark in July 2014. itelligence undertook a consolidation of its two Budapest offices one from Vaci ut and the other from another Infopark building. The result is their desired expansion of floor space occupied and a more efficient office solution for their Budapest functions.

As a result of this transaction Infopark A is circa 87% occupied to tenants such as IBM, Panasonic, Cambridge Technology Partners & Invitel.

Péter Szalma, Leasing Manager at CA Immo added: "We are delighted to have secured such an iconic and well respected occupier as itelligence and greatly look forward to them taking occupation of their new offices in Infopark A.''

David M Johnston Associate, Head of Office Agency at C&W in Budapest commented on the deal: "This transaction is fantastic news for Infopark A and brings the occupancy rate to a healthy level for the building. The South Buda market remains one of the most popular sub-markets in Budapest with demand being driven by IT, Technology and Professional services companies.''

Cushman & Wakefield is the exclusive letting agent of Infopark A office building.

Infopark Building A is a 'Grade A office building, that spearheads the respected and established Infopark Office Park, Budapest's prime Technology Office Park. Infopark is ideally located in the neighbourhood of the Technical University of Budapest on the Buda side of the city. Primarily, Infopark is aimed at Telecommunications and Technology companies, however, due to the desirability of the area in recent years Blue Chip corporates such as Lufthansa Systems and others have acquired space in the development.
Cushman