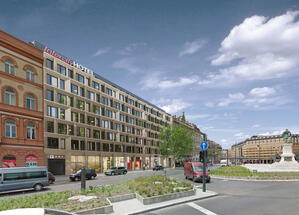 The scheduled delivery date of the building is 2020.
The 3-star superior hotel will be situated right next to Keleti Railway Station, a vital transport hub of the Capital. With two metro lines, various bus, trolleybus and tram services arriving to this major train station, the location is a popular, buzzing urban area in close vicinity of the city center. The 312-room hotel, together with a residential building of 45 apartments will be erected on the development site at the south side of Baross square. The gross built area of the project will be approx. 26,000 sq m. The hotel will be operated by Intercity chain, part of the Steigenberger Group/Deutsche Hospitality.
Tamás Sellyey, Operational and Sales Director of DVM group commented: "We are extremely pleased that after thorough negotiations a prestigious German developer chose us to realize their first Hungarian project. This mandate is an important milestone to further increase the proportion of instructions received from the open market. The assignment is also another great opportunity to demonstrate the cooperation between our divisions, as well as to exploit the synergies of our unrivalled complex services for the benefit of the clients."
Thorsten Testorp, managing partner of B&L group added: "DVM group's strong local track record and high-quality approach for planning and building supported the decision to choose them as a local new partner for this turn-key development. Hotel developments have their specifics and DVM group is suited to take up the challenge, setting a strong promising precedent for further joint developments in Budapest and the region."
B&L group has already proved themselves through a great number of hotel projects in major cities all over Germany. On top of that, they also developed various shopping, office and residential properties in their domestic market. With a history spanning over almost half a century, the Hamburg-based family-owned company now has over 180 successful projects under its belt.
Joachim Marusczyk, Managing Director of IntercityHotel GmbH is looking forward to the new opening in Hungary: "Budapest is a city with a great past and lots of potential. We are delighted that our brand will soon be able to offer a centrally positioned and modern hotel in such an attractive metropolis."
DVM Group