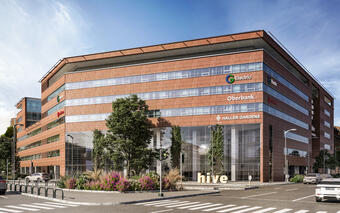 The myhive offices have been popular with tenants already, and new myhive products offer even more attractive options for existing or future tenants: no long-term commitment is required, as the size of the leased office space and rental time can be changed much more flexibly.
Since beginning of this year, IMMOFINANZ has concluded new – around 5.000 m2, – and extended existing leases – around 16.000 m2 – on a total of 21.000 m2 in their office buildings in Budapest. An important factor of success is that the company regularly assesses tenant needs and continuously introduces new services based on their feedback and local market conditions. During the epidemic, the company took all support and measures to ensure that the operation of all the office buildings for tenants continued accurately.
myhive Thirteen | Globe office building's main tenant – operating in the public sector who leases more than 11.500 m2 – extended his lease in the first quarter of 2021. myhive Greenpoint 7 office building was also expanded by a new tenant from the developer sector, and an existing tenant – also from public sector – extended its 3.000 m2 contract. The occupancy rate of both myhive buildings became 100%. In the Office Campus located in South Pest, two existing tenants have also extended their nearly 1.500 m2 contract.
Last month, myhive Haller Gardens was chosen as the headquarter by several new tenants, increasing the size of the leased areas by a total of 4.500 m2. Most of them – a pharmaceutical, a food packaging, a vehicle manufacturer and a development company – chose the office building thanks to the visual design of the completely renovated building and the new myhive services adapted to the needs of the tenants. "We have seen some rising demand in our modern and highly flexible office concept, not only due to our latest renovation but especially for our unique services. It allows existing or new tenants to decide on a monthly basis whether they want to increase or decrease the rented office space. In addition, the rental period is more flexible, they can rent a single office or table for only a day or a month" – says Viktor Nagy, IMMOFINANZ Country Manager Operations for Hungary. "With these solutions, both start-ups and freelancers can find their ideal office, while also getting all the services that only larger companies have been able to enjoy in office buildings so far."
The myhive app supports daily contact with tenants, and in addition to information, it will now be possible to use the new myhive services even more easily, e.g. to spontaneously book office space, meeting rooms or guest car parks, order food and pay for it.
IMMOFINANZ