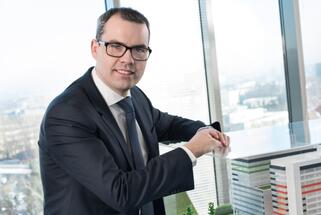 All these changes aim to strengthen the organization and synergy of Skanska Commercial Development Europe in Central Europe and grow the business in those two emerging markets.

Hungary and Romania are very important countries for Skanska in the company's business plan 2020. The office market in both locations is growing in terms of space delivered to the market, volume of leased space and the quality of office offer. According to CBRE, one can expect similar results also in 2015 . The office market in Budapest is promising as well. According to forecasts by JLL, new supply in 2016 can reach the highest volume since 2010 . In both cities Skanska is increasingly active. It has already delivered six office buildings in Budapest to the market and the seventh - Nordic Light - is currently under development. Skanska's Romanian project Green Court Bucharest is in high demand. The company has fully leased its first building and over 80% of the space within Building B. Skanska Property Romania has also acquired one plot of land in the Central-West part of Bucharest for the future office projects in the country.

"This is important step in bringing closer Romania and Hungary. It will create solid platform for utilizing cross-countries synergies and promoting more knowledge sharing.

Both markets are very challenging but with high growth potential and showing strong signs of post-crisis recovery.
Furthermore, both countries are eagerly selected by companies from the BPO/SSC/ITO sector for which Skanska is often a first-choice company." comments Marcin Łapiński, Managing Director of Skanska Property Romania and future Managing Director of Skanska Property Hungary. "I would like to wish Aurelia Luca and Zoltan Linczmayer many successes in their new positions.

According to "CEE Investment Report – Rising Stars 2015", launched by Skanska Commercial Development Europe, JLL, Colliers International and the Association of Business Service Leaders (ABSL), Bucharest and Budapest are recognized as 'rising stars' on the real estate investment transaction map of Europe. Both cities offer attractive return on investment along with huge market stability and low risk.

Important Country Director functions

Due to the development of Skanska's office business in CEE, in particular in Hungary and Romania, the company extends its structures and establishes new positions of Country Directors in those two countries. Following 1st January 2016, Zoltán Linczmayer, previously Managing Director at Skanska Property Hungary, will be appointed Country Manager in Hungary, while in Romania it will be Aurelia Luca, current Leasing and Marketing Manager. The Country Directors, together with Marcin Łapiński, will strengthen Skanska CDE's presence in those two countries, which are perceived as with the first-rate potential.

 "Just as synergy and exchange of knowledge among Skanska's units in different countries is important on an international level, on a local level it is crucial to properly understand the needs of people and users of our buildings. In Skanska, we focus primarily on employees of the companies that select our projects. Our goal is to provide comfortable office space that encourages efficiency. We know that flexibility is important as well as the opportunity to adjust space to individual requirements – not only of each tenant but also of each employee. Furthermore, it is of crucial importance that our buildings fit in with the urban tissues and give the opportunity to handle business during work breaks and after work," underlines Zoltán Linczmayer, future Country Director at Skanska Property Hungary since January 2016.


Skanska