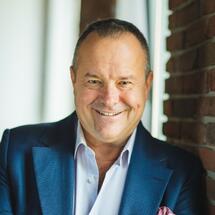 - Was it really €800 for a ticket to today's awards?
- Yes, it was.
- Okay, let's move on! There are a relatively large number of awards that recognise the best in real estate. How is this award different?
- In that the CRE Awards are specifically about the real estate profession in the region. The composition of the jury and the list of nominated projects reflects this; Hungary is prominent, but there are nominations from the Czech Republic, Poland, Serbia and the Western Balkans. Coming back to your question: we are also aware of local awards and recognition, but we see a broader horizon than that, 40% of the guests tonight have flown from abroad specifically to attend this professional conference and the gala that follows. It's also a great opportunity to exchange ideas and learn about each other's ideas and projects. The market is not in a very favourable situation at the moment, but our belief is undiminished that there is a need for such meetings and, of course, for the prize.
- If you look around town, you don't see many cranes. Where do you see the market going?
- It's not just Hungary that's going through a quiet period, there's less investment elsewhere in Europe, and higher interest rates are obviously having an impact on real estate investment.
- You did not mention the war situation.
- There are several wars going on at the moment and none of them are helping our work. Kosovo, Ukraine, Israel: all are making investors nervous.
- They say that if you invest in property, you should think ten years ahead.
- On the one hand, yes, but on the other hand, a lot of developers and investors are selling and buying your projects with much shorter lead times than that, the art is exactly when that happens.
- If someone here at the awards ceremony were to ask you, here's $30 million, I'd like to invest in real estate. What would you suggest?
- This is more a matter for the agencies, but I can see that the industrial property market is thriving, and there are good ideas in the residential rental sector, but you always have to look at the specific project: there are some office buildings too that are worth a closer look. We have been present in the real estate market in the region for 20 years and we have been through many waves. Now the office market is more in the valley, but maybe that is why it can be worth buying, for example, if we look at the ten-year period you mentioned.
- What trends are you seeing?
- I don't expect a major change next year, but cash buyers are slowly coming back. They are the ones who left a few years ago because prices were too high.
The list of winners of the fifth CRE Awards is available here: https://europaproperty.com/celebrating-success-5th-annual-cre-awards-in-budapest/
Irodakereso.info