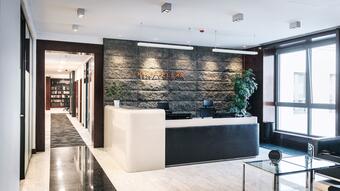 In the opening speech, Csaba Zeley, the CEO of ConvergenCE, expressed his gratitude to the existing tenants for their patience and cooperation during the renovation works, as they continued to carry out their daily tasks in the building. Kinstellar is the longest-standing tenant in ACADEMIA.
Taking over their renewed office space in October and signing another long-term contract, the international law firm, established 15 years ago, expressed satisfaction and a commitment to the excellent location and high-quality office space. The renovated leased area is situated on the border of ACADEMIA's traditional and modern wings, spanning over 1,100 square meters. The negotiations were handled by Avision Young on behalf of the tenant.
Kinstellar's founding offices have been present in Central Europe for several decades. Thanks to their success in recent years, this leading legal advisory firm, employing nearly 500 lawyers globally, is now present not only in numerous European countries but also in Central Asia.
"The office plays a defining role in our daily lives, we spend a lot of time within its walls. Therefore, quality and a motivating work environment are of paramount importance to us," emphasized Kristóf Ferenczi, Managing Partner of Kinstellar's Budapest office. "Having spent nearly a quarter century in one of the most beautiful office buildings in the district, on the bank of the Danube, proves that we've truly found what we needed at ACADEMIA. Market changes require us to remain open, and it's reassuring that ConvergenCE has been flexible in accommodating tenant needs. During the renovation, we placed greater emphasis on communal and collaborative spaces, ensuring as much natural light as possible, and using brighter colors. The building's new design, its clean, elegant lines, have truly captured our admiration."
"It's an exciting design challenge to cater to the unique needs of a recognized international law firm," continued Andrea Tarján, Project Manager at BuildExt. "Kinstellar relocated some of its offices within ACADEMIA and expanded its office space by a floor, allowing us to create a unified, modern workplace. The use of glass partitions brought more natural light into the interior spaces, creating transparent environments. Our constructive collaboration with ConvergenCE helped accommodate new tenant requirements during the execution."
"Signing a long-term contract is always a great pleasure, but earning the trust of an existing client time and time again is even more gratifying," added Dóra Papp-Vas, Leasing Director at ConvergenCE. "We've strived to be flexible in handling Kinstellar's requests and vision this time as well, and I'm proud that such a prestigious international advisory firm has chosen us once again."

ConvergenCE