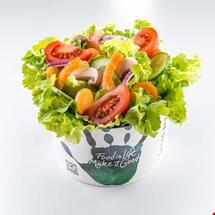 "SALAD BoX is one of the high-quality, new auxiliary services at the Eiffel Square Office Building which adds to the convenience of those working here or living in the neighborhood, and even that of tourists in the city centre," says Csaba Zeley, Managing Director of ConvergenCE, the company operating Eiffel Square Offices. The newly opened SALAD BoX salad bar has a 100 person capacity, complemented with an outdoor terrace for 50 people in the summer, making the place one of the capital city's most attractive and pleasant dining and relaxation destinations in every season.

"SALAD BoX Nyugati is a healthy fast food restaurant, where you can have salads and beverages full of vitamins at affordable prices, and you can enjoy a quiet and tranquil green terrace, unique in the city centre, every day of the week," says Márió Újhelyi, Managing Director of SALAD BoX Franchise Magyarország Kft.

The new SALAD BoX is located in the middle of a 4,800m² landscaped amphitheatre in front of the Eiffel Square Office Building, below the promenade: it is the perfect place to have a quick and healthy work lunch during the day, and after working hours, until 10PM every day, guests can enjoy a light dinner and an evening out in the city centre.
ConvergenCE