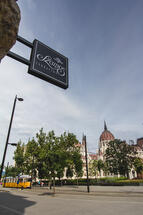 As the new slogen suggests: "More than Sweet." This latest addition to the Szamos chain goes beyond the perception of a traditional confectionery. Besides selling cakes and marzipan, it serves the needs of tourists and nearby workers from early morning onwards, offering sandwiches and business lunch as well. The place is already popular: the large wall decoration depicting a galloping horse reflects the energetic dynamism of the packed and sparkling coffee house.
Representing the Szamos family, Ádám Kelényi managing director said that in addition to their traditional elegant approach they intentionally opened towards new trends as well. The progressive image and product range of the "Szamos Today" concept was developed by studying business models and consumer habits in various large European cities.
Glass and mirror surfaces make the high-ceilinged, modern interior even more spacious. In the chocolate museum operating on the top floor, visitors not only learn about the history of cocoa cultivation, processing and consumption through the collection of the Szamos family, but can also admire stunningly detailed marzipan statues or participate at chocolate making courses.
"Because of the prime location it was particularly important to obtain all the necessary permits in time to ensure the progress of the scheduled conversion works. We had that covered, among other things."- added Tibor Massányi, managing partner of DVM group. "DVM Group also proved its expertise in the construction of the glass portals, the implementation of the new gallery and the establishment of a direct connection between the café and the chocolate museum above. It was an honour to take part in the creation of the new Szamos café. We believe that first-class workmanship boosts the success of quality service."
DVM group