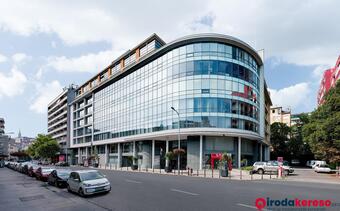 The Hungarian creative agency, which won the prestigious Cannes Gold Lion Award with the #flutwine campaign is moving to the ground floor of ZenGarden, known for its exceptional location. Managed by ConvergenCE, the newly renovated and repositioned office building, with an investment of nearly 2.5 million euros, will provide a space where the professionals of White Rabbit can unleash their creativity, finding inspiration in the neighboring zen garden. The creation of this outstanding long-term contract was greatly facilitated by Andrea Baktay of architects and interior designers BuildExt, who created the architectural and interior design with a prompt, efficient, and constructive approach. The unique office space will be available to the new tenant starting from the Autumn.
"Our decision to move to ZenGarden, offering state-of-the-art energy-efficient and cost-effective solutions, was the result of a swift decision-making process," stated Levente Bálint, the founder and CEO of White Rabbit. "It was important for our creative team to work in an environment that nurtures creativity, where not only the online world and ideas inspire us, but also the interior space, garden, and services provided. The long-term duration of the contract expresses our confidence in this choice. Building our own brand, the image we portray, and the conditions we provide for our employees serve as feedback to our clients. Our future office at ZenGarden will provide the perfect setting for making positive decisions."
"Firstly, I would like to express my gratitude to Gábor Tóth B. (Otthon Centrum) for his contribution to the negotiation of the contract," stated Judit Kolozsi, Leasing Manager at ConvergenCE. "Gaining the long-term trust of our clients is of paramount importance to us, so it brings great joy when a harmonious relationship is established right from the beginning. After addressing and fulfilling their unique needs, this ultimately results in the creation of a long-term contract. It is a particular source of pride that a globally acclaimed and highly recognized Hungarian agency has chosen to base itself in Zen Garden."
ConvergenCE