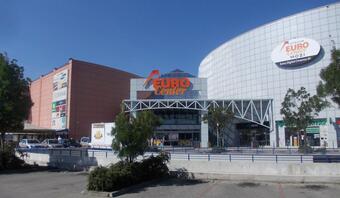 The company has over ten years of experience developing and managing retail properties and plans to carry out value-enhancing investments across the new portfolio with a particular focus on the Buda shopping center. The EuroCenter is popular with the local community due both to its excellent location and tenant mix. Wing intends to invest to improve on the shopping center's existing strengths for both shoppers and tenants. WING has taken a similar role in MOM Park, where as a member of the ownership consortium, it has successfully contributed to the refurbishing and the re-positioning of the shopping center.
WING Zrt. has acquired the EuroCenter Óbuda Shopping Center. With around 23,000 square meters of floor space, the shopping center first opened its doors in 2000, and since then has remained very popular among people living in the area, thanks to the large number of services and wide range of stores it offers, as well as to its own cinema. After taking over the Óbuda shopping center, WING intends to bring new momentum to the shopping center by value-creating developments and by the renewal of the operations.
"With the acquisition of EuroCenter Óbuda shopping center and the Szombathely properties, Wing's retail portfolio has expanded with valuable assets. The EuroCenter's demonstrated value is clear and we believe that our position as a local investor adhering to international best practices will allow us to further enhance the value proposition for both customers and tenants. We intend to strengthen EuroCenter's market leading position in Óbuda by adapting the center in accordance with the needs of XXI Century retail and entertainment. On the basis of our two decades in the Hungarian property market, WING is able to provide the professional expertise, world-class development experience and stable financial background necessary for this project." said Noah Steinberg, CEO of WING Zrt.
WING is a leading player in Hungary's property market, and is active in all market segments. Besides shopping centers, it develops offices, industrial parks, hotels and apartments. In the area of retail property, it has more than ten years of experience. The company's first retail development, Agria Park in Eger, opened in 2007, while the Hegyvidék Shopping Center in the 12th District in Buda has been operating successfully since it opened in 2012. The revival of MOM Park is also largely linked to the work of WING, which proves how much value the company can add after taking over and refurbishing an existing shopping center.
Besides the acquisition of EuroCenter Óbuda, the transaction included the purchase of the Family Center shopping center and Praktiker department store in Szombathely. The transaction was approved by the Hungarian Competition Authority in January 2018, and is financed by Sberbank Hungary.

WING Zrt.