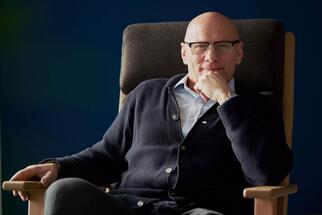 - How do you see the office market evolving in 2022? How will the market change in the post-Covid period? What are the most significant trends?
- The office market is facing several challenges these days. Tenants are asking for flexible terms that landlords don't want or can't grant as their loan agreements with the financing banks do not allow them to do so. Fit-out and construction costs are increasing significantly which pressures the margin as do the increasing interest rates. Finally, the inflation increases the service charges and energy prices are skyrocketing which the tenant needs to pay on top of the rent. The funny part is that none of those facts has anything to do with COVID. Lockdowns only triggered the acceptance of digital tools used for meetings and the development of hybrid workplace strategies. This, of course, is good for serviced office providers but in the end it only sped up the arrival of the sharing economy in the office industry, which is one of the last industries of all which now needs to adapt to this megatrend.
- Flexibility has become the word of the year in the real estate market, which is particularly beneficial for serviced office operators. Do you agree with that?
- The need for flexible office terms is caused by the digitization of work processes. If your workplace is digitized, it doesn´t matter from where you work. Lockdowns have shown us that productivity doesn't differentiate just because somebody works from home or from the office, but on the contrary work-life balance works much better if you save 8 hours of commuting time a week and spend this time rather on the family instead of sitting in a car in the rush hours. Of course, companies and every individual needs to find the right mixture for hybrid work but in the end, it's a fact that hybrid work is here to stay and this is causing the need for flexible user approaches (shared space concepts). This trend is further accelerated by the need of ESG compliance and the upcoming recession where companies have difficulties planning and committing long-term or spending CAPEX on leased space. So yes, flex office concepts are the fastest-growing segment in the office market, its market share is forecasted to grow from recent 4 % to 30 % soon.
- The vacancy rate is around 10%, but there are relatively many sub-rentals. At the same time, many new office buildings are coming as a new offer. Do you think that the market is still healthy?
- The real vacancy is much higher in all markets. If you forget about the asset-based approach, which is linked to leasing contracts and as a result to the reported occupancy and you switch to the ESG compliant space approach - which is linked to utilization and almost in all buildings is under 50 % - then you realize that by the time the leases are due for an extension there will come a wave of unused office space to the market. Of course, this varies on the type of business of the tenant and the type of office building and location. But some office buildings will no longer be used as much as before the pandemic and will get converted into something else, mostly residential. On the other hand, new and modern buildings like the new tower from MOL, will achieve premium rents as those products are very rare in the market and attract high demand. Overall, there are not many new developments that are getting realized in the next 2-3 years because the market doesn´t support the necessary increase in rents and the developers need to cover the increasing construction and finance costs, which are increasing more and more by higher equity requirements due to the absence of long term leases.
- There are already 4 million sqm of offices in the Budapest office market, but the supply is very heterogeneous. (And just a small part is serviced) What is New Work' position?
- New Work is growing in three dimensions, quality and quantity in our brick-and-mortar business and digital with our Platform from worklcoud24 for space partners. First of all, we constantly check our portfolio if we can improve the quality of space together with the landlords and if we can't, we give up the space (as for example we did with Anker köz) and try to compensate with better and bigger space. Recently we expanded our space in Science Park from 2.000 sqm to 4.000 sqm and we strive for signing an additional 4.000 sqm in top Class A Buildings by the end of the year. With this quality of space, we do not only save a lot of maintenance and get competitive in terms of service charges and energy costs but furthermore, we get much better results when it comes to ESG compliance. Meanwhile, with workcloud24 we offer a platform for other flex operators and landlords to onboard a marketplace where they can participate from a cooperative Ecco system providing quality standards and connecting to increasing demand from clients, to find flex concepts not only in Budapest but in the entire Hungary or even Europe.
- Let's get back to ESG! How important is it in the serviced office market?
- The need for ESG compliance has become close to my heart. Studies show that with the right operational manual we can reduce the carbon foot by 50 % with only a small investment. At New Work we invented Space in the Cloud' in February 2022 and it is a best seller. Clients using these services can reduce costs for their core space by 40 % which comes along with almost the same savings (if not more) on carbon emission. We are just in the progress to launch a carbon certificate for our clients which allows them to measure their savings by using the flex office concept or 'Space in the Cloud'. The goal is that they can use those certificates for their own ESG reports which soon every company is required to disclose. But this of course is only the start of a long journey. ESG is a game-changer, much more impacting the industry than the pandemic or the upcoming recession. For every player who is not prepared it is causing a serious transformation risk. To give you an idea of what we are talking about: studies from McKinsey came to the result that an average mixed-used portfolio, without any mitigation action, will lose 30 % of its value by the end of the decade.
Click image to open gallery with other images
New Work started in 2012 in Hungary as a Flex Office Operator, operating today 46.000 sqm in 16 locations in 4 countries. The brand is listed as #2 in CEE with its multilocation approach. This gives the company an excellent position to consult and service international brands like Lego, Embraer, Lufthansa, Deloitte, Tata Consulting Services, and Verizon with their hybrid workplace strategy. Since January 2021, New Work has also offered franchise packages for landlords and single-location operators.
Irodakereso.info