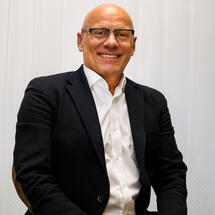 - Flexibility has become the word of the year in the real estate market, which is particularly beneficial for serviced office operators. Do you agree?
- Flexibility comes in many ways. On the one hand with the employee which requires flexible work conditions, such as work from home guidelines and allowance for work tools and compensation for IT and energy usage in their private homes. To change the workplace strategy towards hybrid work, first and foremost a change of culture is required which takes it´s time and as long legal legislation for work from home is not in place corporate tenants will hesitate to implement such work style totally, which doesn´t mean it will come anyway as I am 100 % sure that this will be the future of work. On the other hand, flex is used in context with flexible lease terms and serviced offices. Here we see a change of paradigm as well. Digitization speeds up processes and Covid-19 support uncertainty, both are drivers for companies to choose flexible terms above long-term commitments. Not to mention that flex usually comes with less or almost no Capex which gives an additional advantage.

- By taking care of the day-to-day operations for the tenants, the serviced office operator allows them to concentrate solely on their actual work. But this obviously comes at a price: what are the costs for someone who wants to rent a serviced office?
- Service always comes with a price but as long the costs are in relation to the add value nobody bothers. As an example, may we can use a cab. You are ordering a cab to the airport in the hot summer, you may order a premium car to make sure the AC is working and if the car in addition is clean and in time and the driver comes with a smile you are happy to pay the premium plus a tip. While if you want to use the car for the entire month you go with a shared car service and if you need it for 6 months with a rental car service and for one year with a leasing service. You see it´s all there already, we call it shared economy. Just the real estate industry is the last one which adapts (as usual).
- How do you see the office market evolving in 2022?
- Vacancy will increase as companies will realize that they don´t need all the headquarter space anymore and due to digitization of space and the implementation of space management software tenant will realize that they use their space only by 60 % which is problem when it comes to ESG compliance as the embedded carbon is causing 31 % of the entire carbon emission while operational carbon adds with another 7 % on top. So, all the space which is under lease now but not fully utilized will come to the market soon. Premium buildings will be able to increase their headline rents while B Class will suffer and needs to get refurbishments.
- Talking about digitisation of office space: How can we digitize space the easy way without turning the operation upside down?
- At Workcloud24 we offer such solutions which are always adjusted to the needs of the client. While a tenant may only ask for a rough ESG analysis and followed by an effective space management application to give the employees the opportunity to book and organize their workspace remotely, a landlord would require a full scope ESG analysis followed by an Office Pass application to give the tenants of the building the possibility to use the flex space which will be an integrative part of each modern office building soon. In both cases we build a digital twin of the space which starts with scanning the floor plans and in an advanced approach we then simulate the envelope (which is the facade) including the technical systems in order to get hold of the operational carbon emission.
- How to achieve premium revenues via digital services and which role will flex play in the future and how is this linked to digitization?
- Flex is the future, out of the fact that we will consume most of our services due the shared economy and it will take a fair share of the Office industry soon, JLL predicts the share with 30 % (while today the market is on approx.. 4 %). However premium only can be achieved due services with excellence. Especially when it comes to digital services the customer is brutal. In the brick and mortal business at New Work our paradigm is "You only have one chance for the first impression", this is much truer when it comes to digital services. If the application has a male function, clients just don´t use it anymore and you don´t have or only very little chances to repair it. The acceptance of digital solutions always comes first gradually and then suddenly. The fact that we don´t see them much today doesn´t mean they are not already under their way. I always say it´s like a tsunami. It´s already on its way even if you have no clou about it, but the only way to survive it is to adapt now and prepare.
- What plans have been successfully completed this year, what are you proud of and what will be carried over to next year?
- We exercised our homework again and again until we achieved excellence in selling and providing Services. If you come today as a potential customer, the first 10 questions will be about your needs until we fully understand it. Only then we can provide tailor made service. You can say that today we have implemented a client or human focused in our DNA while a year ago we still were office centric. On the backbone systems of the company everything is digitized. From the viewing up to the e-contracting and billing. As a result, no more work around systems much less malfunction and everybody can concentrate on the one and only which really makes the difference compared to the competition focusing on client needs. But most proud we can be on the fact that all our landlords did hold up the flag in the difficult times and we were able to proof that we are worth the trust they gave us. Today we are perceived as partners and not as tenants only which results that we are asked for advice how to deal with ESG or how to implement workplace and leasing strategy on the portfolio level. Plus, we were able to strengthen our equity by almost 2 M EUR fresh money from investors. The trust of the landlords and the investors gives us the tailwind for the future growth.

- In a previous interview, you said that change is a good thing. Do you stick to that?
- Don´t be afraid of change just prepare for it and it will be for the good. As Lucius Annaeus Seneca said: "Not because it is difficult, we do not dare, but because we do not dare it is difficult."
Irodakereso.info