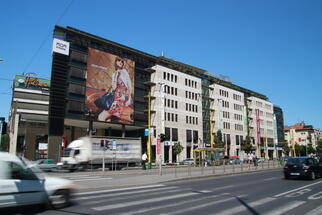 The largest transactions were renewals to existing tenants VFT (an IT Services Company) on 555 sq m and Vertis (Environmental Commodities Broker) on 423 sq m.
The other transactions comprised, new leases to new tenants, namely Wolf & Partners (Trading Company) 314 sq m, OrienTax (Tax Advisory Firm) and Venodia (a Holding Company) acquiring 383 sq m and 135 sq m respectively.
David Johnston MRICS, Head of Office Agency at Cushman & Wakefield commented on the success: "MOM Park Towers has always performed well, even during the recession, however the volume of transactions we have closed recently far outperforms the sub-market, despite the recovery in the occupier market as a whole. We are in detailed discussions with other parties for existing and vacant space, and I am confident we can improve on the already impressive 7.50% vacancy by the end of Q4 2015.''
The 11,500 sq m A category MOM Park Towers office complex, is located in Budapest's 12th district close to Déli railway station and in the core catchment area of motorways M1 and M7.  
-         
The successful merger of Cushman & Wakefield and DTZ closed September 1, 2015. The firm now operates under the iconic Cushman & Wakefield brand and has a new visual identity and logo that position the firm for the future and reflect its trusted global legacy and wider history. The new Cushman & Wakefield is led by Chairman & Chief Executive Officer Brett White and Global President Tod Lickerman. The company is majority owned by an investor group led by TPG, PAG, and OTPP.