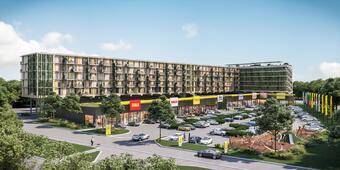 Plans call for a reduction of 60% (below the 2019 level) in all greenhouse gas emissions by 2030 – and by 2040, this leading European commercial real estate company intends to be emission-free along the entire value chain. That means IMMOFINANZ will clearly exceed the goal set by the European Union to attain climate neutrality by 2050.

The real estate sector plays a decisive role in the fight against the steadily progressing climate change. Roughly 40% of worldwide emissions are attributable to the construction or operation of buildings. In order to limit global warming to a maximum of 1.5°C, numerous measures are urgently needed. IMMOFINANZ, as one of the leading commercial real estate companies in Europe, has accepted this responsibility and intends to become emission free by 2040.

"The acute climate crisis and the related ecological impact are the most pressing challenges of our time, and we are all called on to act. We have therefore set an ambitious goal to become emission-free in all areas of our company by 2040. That reflects our commitment to accept responsibility for mankind and our environment as well as our intention to play a leading role in the sustainable transformation of our industry", commented Dietmar Reindl, COO of IMMOFINANZ, on the company's ambitious sustainability programme.
IMMOFINANZ