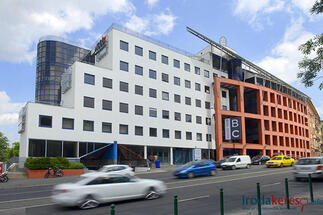 A new healthcare department was opened in Buda Center giving the 5,900 sqm office building a special new function: standard office spaces on two floors were transformed into a medical facility where Emineo Private Hospital moved its new headquarters. Besides diverse outpatient surgeries, the centre comprises two operating rooms as well as single and double bed wards. Post-surgery rehabilitation is also provided on-site by professional physiotherapists.
Buda Center is located in the heart of the city with excellent transport connections and numerous amenities in the neighborhood. The building has recently been refurbished and boasts such major tenants as Aktuál Bau, Estée Lauder, Rádió1 and Rewart.
"When a new tenant moves into one of our office buildings, the leased premises are usually restructured and renovated to meet the client's needs. Establishing Emineo's private hospital was much more than an ordinary refurbishment, as medical services require special equipment, materials, fittings, etc. Thanks to the good collaboration between Emineo and our team during the fit-out, we managed to hand over the property on time. We are very delighted to welcome this prestigious hospital in Buda Center and we are proud to be one of the few office buildings that are able to accommodate also medical facilities as well", said Géza Barabás, managing director of S IMMO Hungary.
S IMMO