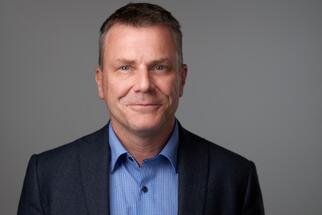 - How do you evaluate last year from the CA Immo perspective?
- 2021 was a very busy year for CA Immo. And especially for me, as I became the Hungarian MD last summer, during this challenging period...But the year was not about me! I would say last year was a very successful year from a business point of view: we sold Canada Square office building at a significant premium to book value and more than 7,000 square metres were taken up by new tenants, in addition, we have signed renewals for nearly 10,000 square metres. In 2022, we will focus specifically on strategic asset management to ensure our portfolio is best placed to add value for the company, while also providing an efficient, pleasant and eco-friendly workplace for our tenants. To that end we have outsourced the day to day Property Management of our portfolio to CBRE. Efficiency, flexibility and sustainability will be the key drivers of our business. We are making a number of improvements to the existing assets, and we keep our eyes on the market, looking for good capital rotation opportunities.
- How is life under the COVID-19 virus? Has renting stalled, what has changed? What can we expect in 2022?
- There are no clear trends in tenant demand for space as yet – covid and all that it has brought means we have not been dealing with a normal market for quite some time. While hybrid working and consequent lower staff levels in offices on a daily basis are pointing in the direction of less space, the need for more and larger personal spaces and the expansion of amenities are pointing in the other direction, as are the expected office services and shared, project-based work. What we are seeing most now is that tenants expect flexibility from us, the landlord, and we are trying to adapt to this, in terms of day-to-day operations and the ongoing improvements to common spaces and services. We also do not see consistent movement on rents, neither on space requirements. It very much depends on the tenant and their own business line. But what is certainly clear is the longer decision-making processes: companies have become much more cautious in their decision-making during 2020 and 2021. I think 2022 will be a similar year, with many tenants holding off on their long-term decisions or going for a more risk-averse approach. I think the year 2022 will bring different trends and office strategies. While companies understand the need for more flexibility in the form of WFH (Work From Home), most of them are also aware of the positive impact a shared work experience in an attractive working environment is having on their employees. Further flight to quality can be expected as a consequence of these trends – provision of higher quality space in an adapted, sustainable office landscape probably will be one of the key success factors for office landlords in the years ahead.
- Let's stay on topic! Do you think workers will move back to the office or will hybrid working patterns prevail? What are the main trends?
- CA Immo's 9 office buildings in Budapest are occupied by 140 tenants of different sizes and activities, so the impact of Covid-19 varies widely. There are general trends, however, and we can already see that flexible working will become more and more popular in the future, but the form it takes varies from company to company: some have opted for 100% remote working, while others still prefer to work in the office. There is no practice that suits everyone, for the time being everyone is waiting, because unfortunately we cannot predict the end of the epidemic. Having said that it certainly seems to be the case that sooner or later we will need to learn to live with Covid, rather than go back and forth between lockdowns and the varied restrictions on normal life we currently operate under. We, the CA Immo team in Hungary, are trying to find a healthy balance between the various approaches.
- Flexibility is the number one consideration for most tenants when it comes to signing a contract. How do you respond to this demand? How can you reconcile landlords' demands for long-term contracts with tenants' desire for short-term commitment?
- Of course, all landlords like to plan for the long term, and our business models cannot work without commitment on both sides – tenant and landlord. However, the size of our portfolio and the sheer number of tenants within it means that our lease expiry plan is not structured in 5-year blocks anyway. Every year we will see a certain percentage of leases coming up for extension or expiry, and we can operate within that to provide the necessary range of options needed to operate in today's market. I think there is also a limit to the flexibility required by tenants as they also have to consider not just the short term but their ongoing business needs, and no one wants to move unnecessarily to another office, as it involves a lot of compromise and stress - and many of us have had experience of the latter over the past 2 years. Rather, what we see is that for many tenants, uncertainty is the only certainty: they don't know where they will be in 5 years' time - this is where they expect us to be flexible as possible to adapt to their changing needs - something we are learning to do, because their satisfaction and commitment is our priority too.
- We have a vacancy rate of over 10% - for the market as a whole. Is this good? In your opinion, how long is the increase healthy? Is there even a "right" level?
- A 'healthy' vacancy rate depends on where a particular market is at in its cycle. Would I prefer to see a lower vacancy rate? Of course, but I do not feel that the current rate is something to be too worried about. If you look at the medium-term history of this market we are not at a particularly high or unsustainable level, and I do expect that it will come down over time - but whether that is in 2022 or 2023 is what is not clear at present. There is a development overhang but already we see some buildings which were originally forecast to be completed this year or next being pushed out in terms of timing – and this is again a normal reaction to the type of market we have seen over the last 2 years. What I do expect is that off-pitch, non-core buildings will suffer and that there will be a continued flight to quality in terms of tenant demand. Landlords will have to work their assets and be prepared to invest where and when needed.
- How does CA Immo cope with the sustainability trends that are required by not only the legislation but a growing number of tenants?
- For us, a particular issue of relevance is ESG (Environmental, Social and Corporate Governance). It is something that as a company we have a great focus upon, as can be seen both by our commitment to buying green energy, and the recent example of CA Immo agreeing a 300 M EUR financing instrument whose cost is partly linked to our sustainability performance. However, our everyday focus in Asset Management has always had an ESG component to it, as we strive for efficiency and sustainability in everything we do. I think what is different now is that ESG per se has a much higher profile and is therefore highlighted more, raising awareness of actions that we have always carried out but perhaps didn't label ESG before. We are one of the commercial property companies committed to using green energy; all multi-tenant buildings owned by CA Immo will be powered 100% by green electricity for common areas and cooling from 2023 at the latest. Improvements are already underway, with Capital Square already 100% powered by green energy. We also plan to upgrade our entire investment portfolio with smart meters within the next few years. We believe that accessibility to our buildings is key for those who face mobility challenges. Now all CA Immo's office buildings in Budapest have met the Access4You criteria: they are easily accessible for people with reduced mobility, wheelchair users and people with baby carriage, and have technical features that make it easier for them to move around the buildings. Additionally, we are seeing more tenant orientated questions and demands re ESG, especially from larger multinational tenants. This also includes the green leases on which CA Immo places great emphasis. It is becoming an important factor in standard tenant negotiations. A holistic environmentally and climate-friendly building operation requires the participation of both our tenants and us as landlord. I think that this focus will only increase, and again those landlords who are not prepared will eventually find this relating to poorer leasing performance.
Irodakereso.info