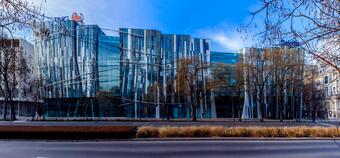 The architects of DVM group have created the interior space based on the newly introduced international design guidelines of the client. An essential aspect of design was to make work relationships less hierarchical, to facilitate information flow and efficient work via flexible space structures. This is achieved using shared workstations, focus booths for phone calls or for one to two people's work, small rooms for internal meetings and large conference rooms for international conferencing. It was also a key objective that space design should not only be high-standard and tasteful, but also durable and close to nature in style. Accordingly, mainly coloured and fabric wall surfaces in pastel shades were installed in the office. The nature-inspired concept is also represented by Interface's biophilic modular floor carpets.

In the open office special emphasis was placed on acoustics. Above the open areas, one of the best sound absorbing ceiling panels were chosen. The space between them remained open due to a special technical solution, and the mechanical elements running there are painted black, thus enhancing the internal height. The lamps, two of which are exactly the length of an acoustic panel, also fit into the rhythm of the ceiling. There is a ribbed suspended ceiling over the other areas. The open-air office units, nicknamed neighbourhoods, are identified by wall decorations. Their own unique colours appear on painted wall surfaces, numbered foils and on community wall surfaces, which also serve as a message boards. Collaboration spaces encouraging project-based work are adorned by design lamps.
Despite the tight deadline and the fast-paced works, DVM group's team finished the construction on time. The tenant moved to the first floor in mid-January, to the ground floor at the beginning of April.
DVM Group