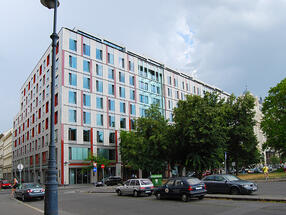 Roosevelt 7/8 office building's first quarter results show significant improvement. In addition to new lease contracts on 2,000 square meters of office accommodation, 20% of the present tenants have extended their commitment over the long term above the market average of 3-5 years.
Roosevelt 7/8 announced a new, exclusive service available for its tenants. From July 2013, the category "A" office building is launching the Roosevelt Loyalty Program, which offers promotions and benefits at various service providers inside and outside the building. The idea is based on the concept that although Roosevelt 7/8 is located in a prestigious area of the Budapest Central Business District (CBD), today's competitive market situation compels office buildings to offer more than just good location and premium office space.
According to the recent market analysis of CBRE real-estate consulting agency, 68 400 m2 (19.7%) of vacant office space was available in 2011, while this number increased up to 86 600 m2 (24.5%) by 2012, which shows an almost 5% rise in vacancy rates only in CBD of Budapest. CBRE market overview also pointed out that new leasing trends favor smaller office accommodations, while among all lease activities contract renewals play the most prominent role: the ratio of tenants deciding to stay inside the CBD rose from 57% in 2011 to 66% in 2012.
In accordance with market trends, Roosevelt 7/8 office building's new lease contracts were signed concerning office spaces of 500 m2 or below in the first quarter of this year. "With new contracts and by prolonging our residents lease agreements for the long-term, Roosevelt 7/8 reachedan occupancy rateof 92%.This is a solid result in the present competitive market and in light of the increasing vacancy rates in the CBD." – said Bence Balázs, Asset Manager of GLL Real Estate Partners, Roosevelt 7/8's trustee partner.
In the first half of 2013, Roosevelt 7/8 has welcomed among its tenants Metaserve, a company specializing in data processing and webhosting, Bloomberg, the US based Business and Financial Information, and News Provider , founded in 1982, the Hungarian service of Euronews, the leading international news channel in Europe, and Comita, a leading provider of technological system solutions. The new residents leased office space between 150 and 600 square meters, and existing tenants expanded within the office building by more than 700 square meters during 2013. Among others,BNP Paribas - operating on almost 10% of Roosevelt's accommodation - and the exclusive bar, Creol - leasing over 500 m2 - decided in 2012 to prolong their lease agreements in the property.
"Roosevelt 7/8 offers high level services, a wide range of amenities and professional, proactive management. Moreover we aim to satisfy the requirements of demanding international companies and continuously accommodate their changing demand." – emphasized Bence Balázs. "Roosevelt's exclusive loyalty program is there to approach all nearby restaurants, shops and service providers which operate according to the high standards of Roosevelt 7/8 and are open to offer special discounts periodically or over the long-term to the tenants of the office building." – he added.
GLL