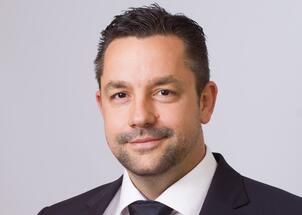 - What were the most significant S IMMO transactions in the past period?
- 2017 was another outstanding year for S IMMO; we signed around 8,000 sqm new agreements and 20,000 sqm renewals in our office buildings, thus reaching an overall average occupancy rate of 92%. We are very proud to welcome Emineo private hospital in Buda Center, and concluding an agreement with the Immigration and Asylum Office was another big success in 2017. We renovated the facade of Blue Cube, gave a fresh look to City Center's entrance lobby and finished the modernisation of Buda Center by opening new windows on the ground floor and building a new terrace there. Pódium and River buildings were already refurbished and modernized in 2016. In the first two months of 2018 we concluded 7,000 sqm new letting, with a number of promising negotiations in the pipeline and will strive to renew in all buildings the majority of contracts reaching their expiry date this year. The goal is to further increase the occupancy level in those buildings that have not fully let yet.
- What are the most important trends on the market?
- Vacancy rates are decreasing, rental fees are increasing, incentives are going down, lease terms are going up, therefore at present we are experiencing a landlords' market. Larger spaces in one block are not easy to find.
- What are the most popular "products" on the market?
- Incubation centres, HUB-s are popular. Flexibility in length of term and size of space needed are characteristic and attractive to start-ups while they produce income to landlord during a period when the area is not leased for a definite long term.
- Let's go up one level. What does your international portfolio consist of?
- As of 30 September 2017, S IMMO's property portfolio consisted of 233 properties with a book value of EUR 1,770.5 million and a total usable area of around 1.1 million sqm. The occupancy rate was 94.5% and the overall rental yield was 6.2%. The properties are located in Austria and Germany as well as the CEE region (Slovakia, Czech Republic, Hungary, Romania and Croatia). Broken down by region, rental income for the first nine months of 2017 is as follows: Austria and Germany contributed 54.7% and CEE 45.3%. Broken down by use type, commercial properties (offices, retail and hotels) contributed 81.4% to rental income, while residential properties accounted for 18.6%.
- Do you plan to enter a new market or have changes in the portfolio?
- S IMMO is constantly evaluating possible investments in all its regions, but the overall division of markets and use types is expected to remain mainly unaltered. S IMMO is not planning on entering new markets in the near future.
- The Hungarian real estate market used to be in the same boat with the Czech and Slovak markets. What parallels can be observed?
- S IMMO is invested in all three markets. Within the last two to three years, Hungary has definitely shown the greatest upswing. Slovakia is also showing signs of a stable recovery and a gradual economic rebound. S IMMO holds three office buildings, two retail parks and one hotel in the Slovakian market. All these properties showed a high occupancy rate over the last ten years. S IMMO has just finished the construction of Einsteinova Business Center in Bratislava, an office property with around 23,500 m² of lettable space. The property is being built in accordance with the most stringent green building standards and is expected to obtain a BREEAM certificate rated "excellent". More than 90% of the properties were already pre-let and the first tenants are moving in these days. S IMMO also owns two hotels in Prague. The Czech market is quite advanced and performing very stable. Simultaneously, the growth potential is not as promising as in other markets in CEE, for instance Romania.
- Your career is on the peak, you are responsible for many professionals. What is important for you as a leader?
- I think as a new leader it is important to get acquainted with the strength and weakness of the team, to be in picture with the performance of each team member to be able to develop them on long term. It is also a key issue to know how to motivate the whole team, because everybody has a different motivation aspect. Nowadays it is more important than ever, to "invest" in our employees to keep them on the long term in the company. It is essential to set reachable targets for the team and set the course they have to follow every day. As a leader I am really purposeful, focused and interested in the successful end-result. How we get there is less important, I leave the freedom in my colleagues' hand to work their own way, but as a good leader I have to ensure that we choose the most effective solution in every case. For me it is the main issue to be consequent and follow up the task which I assigned to the team members. It is important that the team around me consists of people who are professionals and have the passion for their field.
But work is not the only important part of our life. I keep the balance between work and private life and try to ensure the same for my colleagues as well. On the other hand it is important to have fun- and enjoy our daily work and be able to smile at each other every day.
Irodakereso.info